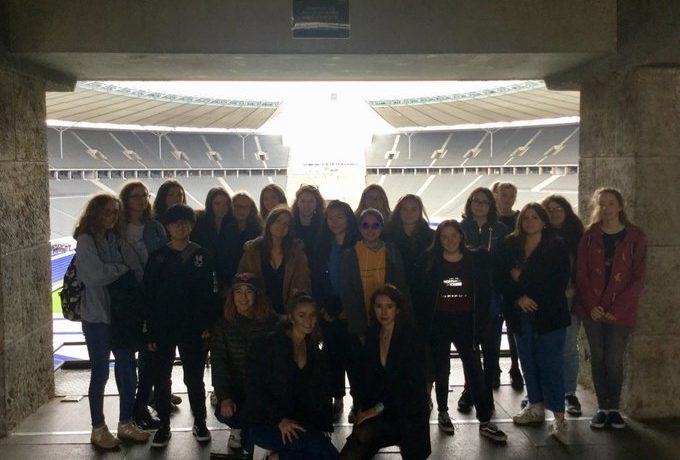 College and Year 11 girls had a brilliant trip to Berlin. They arrived safely at their East side hotel on a wet autumnal day and got straight down to business, learning about the city's historic Wall and reunification.
On their second day, the girls visited the Olympic stadium, the Wall Memorial and the iconic TV tower at Alexanderplatz in rather better weather conditions.
Berlin trip: enjoying a bit of German engineering on Alexanderplatz. pic.twitter.com/c0Gl1pqyon

— The Mount School (@MountSchoolYork) October 17, 2019
The group then split into two with one group visiting the city's Stasi headquarters and the other visiting three (yes, three!) museums: the Museum of Greek and Roman Antiquities, the Egyptian Museum and the Pergamon Museum. In the evening, they visited the Wall Museum's East Side Gallery and learned more about the Wall.
On their final day the girls visited the Brandenburg Gate and climbed up to the mind-boggling dome of the Reichstag before splitting up again. One group visited the Holocaust Memorial at Sachsenhausen and Checkpoint Charlie while the other group took in the political feminist art of the Käthe Kollwitz Museum.
During their trip, the group was repeatedly complimented by passers-by on the girls' exemplary behaviour. Their final take-away from Berlin was, appropriately for a Quaker school, "No more war!"
"My favourite bit of the trip was probably the Olympic Stadium because I'd looked it up for my GCSE History and then to see the architecture and everything up close was quite amazing. I went with the group to Sachsenhausen. That was really interesting. Sad, but I think it's something that it's really important to go and see. It changes your perspective a lot." – Anya (Y11)
"I actually loved everything about the trip. I went with the groups which visited Sachsenhausen and also the Stasi Museum. The Stasi Museum has incredibly detailed documents of everything that had happened, where they would meet, what materials they used, what weapons they carried. We also went to the Berlin Wall Memorial, Checkpoint Charlie and the Glienicke Bridge." – Blake (Y11)